Brenda Mullen
CLICK HERE TO ORDER YOUR AUTOGRAPHED COPY OF  1 Word:  Discover, Reflect & Connect With Words That Will Transform Your Life featuring co-author Brenda Mullen .  All orders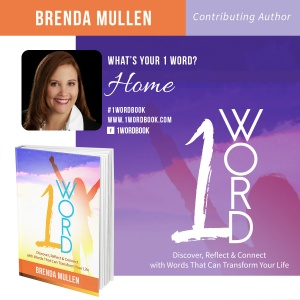 from this page will be personally autographed by me, Brenda Mullen.
In this book, 14 authors share one word that has served as a motivating force in their path to personal or professional success. Along with the word, they share a motivational situation about how this word helped to transform their life. While our stories may be different in their own right, our stories connect all of us thought-leaders and positive role models.
Order your copy today and discover, reflect and connect with words that can transform your life.  We take so much for granted these days.  As a result, some people, maybe even you, never or rarely take the time to reflect on words that impact their lives. Get the book and then start the journey of self-reflection, digging deep into your own conscience and discover words that have somehow played a significant role in your life without you even knowing it.
You'll be amazed at what you learn about yourself and how words impact you in ways that you never knew.
Home
ABOUT THE AUTHOR:  Brenda Mullen is a wife, mother, award-winning Realtor®, retired Army Medic, and lover of cats.  She is currently a Broker-Associate for RE/MAX Access, serving The Greater San Antonio TX area and has been helping people Find Home for 9 years.
Real Estate and helping people find home gives her, her deepest joy when she helps a first time, or millionth time buyer find that perfect place.  It gives her some of the greatest satisfaction to help sellers sell their first home or their second or third homes so that they can continue their journey to find their sanctuary.
Overall, helping others find home, whether that be in the Greater San Antonio TX area or elsewhere is what Brenda considers her true calling.
If you need to reach out to Brenda you can go to her websites,
You can e-mail her at [email protected] and if for some unknown reason you can't find her there…just Google her!