G. Michelle Hale
CLICK HERE TO ORDER YOUR AUTOGRAPHED COPY THE BOOK: 1 Word:  Discover, Reflect & Connect With Words That Will Transform Your Life featuring co-author G. Michelle Hale.  All orders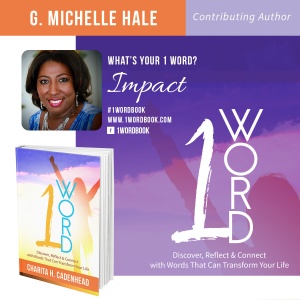 from this page will be personally autographed by me, G. Michelle Hale.
In this book, 14 authors share one word that has served as a motivating force in their path to personal or professional success. Along with the word, they share a motivational situation about how this word helped to transform their life. While our stories may be different in their own right, our stories connect all of us thought-leaders and positive role models.
Order your copy today and discover, reflect and connect with words that can transform your life.  We take so much for granted these days.  As a result, some people, maybe even you, never or rarely take the time to reflect on words that impact their lives. Get the book and then start the journey of self-reflection, digging deep into your own conscience and discover words that have somehow played a significant role in your life without you even knowing it.
You'll be amazed at what you learn about yourself and how words impact you in ways that you never knew.
Impact
ABOUT THE AUTHOR:  Michelle Hale is currently at Minister of Music at St. Thomas UMC in Sylacauga, Alabama. She is an avid reader and emerging writer who has published articles in The Christian Index, the official publication of the Christian Methodist Episcopal Church and The New Beginnings Newsletter, the official publication of The North Alabama Southeast District United Methodist Women. She is a member of the Central Alabama Writer's Guild Alliance (CAWGA). She is currently submitting articles for publication.  When she isn't glued to a computer screen, she spends time volunteering, participating and supporting  church activities, music functions and socializing with friends.  She is a proud mother of 3 children, Carla Michelle Hale-Marshall, Melissa Ann Hale and Michael Carr Hale Jr., and (G.G.) to granddaughters Adrienne and Kennadi.
Reach Michelle  at [email protected] or on facebook at G.Michelle Hale.