Timekia Brayboy
CLICK HER TO ORDER YOUR AUTOGRAPHED COPY OF 1 Word:  Discover, Reflect & Connect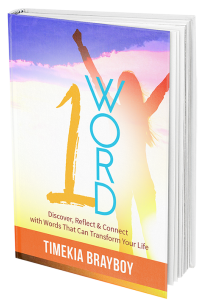 With Words That Will Transform Your Life.  All orders from this page will be personally autographed by me, Timekia Brayboy.
In this book, 14 authors share one word that has served as a motivating force in their path to personal or professional success. Along with the word, they share a motivational situation about how this word helped to transform their life. While our stories may be different in their own right, our stories connect all of us thought-leaders and positive role models.
Order your copy today and discover, reflect and connect with words that can transform your life.  We take so much for granted these days.  As a result, some people, maybe even you, never or rarely take the time to reflect on words that impact their lives. Get the book and then start the journey of self-reflection, digging deep into your own conscience and discover words that have somehow played a significant role in your life without you even knowing it.
You'll be amazed at what you learn about yourself and how words impact you in ways that you never knew.
Believe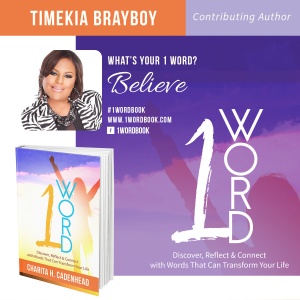 ABOUT THE AUTHOR:  Timekia is a 10-year Army Veteran, Inspirer, Speaker, and Life Strategist was born and raised in Birmingham, Alabama. This inspiring woman has the drive and burning desire to be the change she wishes to see in the world today. She truly exemplifies the characteristics of an influential leader and has earned multiple awards and recognitions to include The Joint Service Commendation Medal for outstanding leadership from the Secretary of Defense of The United States of America.
This ambitious leader paints a unique illustration for all humanity to visualize excellence from within. Timekia has a gift that was recognized early in life, to empower individuals to open the box of imagination, so as to make their dreams become reality.
Timekia is celebrated as a great source of inspiration and master motivator to empowering others to live life intentionally while believing in themselves.
She's been given the name "Freedom Coach," because of her gift to influence audiences to break free from the destitute circumstances in their lives.
Linkedin & Facebook: timekiabrayboy 
Instagram: @tbrayboy
Twitter: @tbrayboy