Order Your Autographed 1 Word Book Today
CLICK HERE TO ORDER YOUR COPY OF  1 Word:  Discover, Reflect & Connect With Words That Will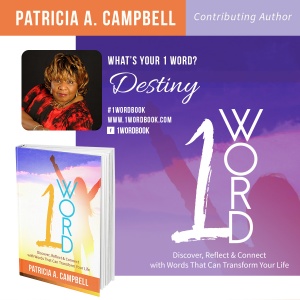 Transform Your Life.  All orders from this page will be personally autographed by me, Patricia A. Campbell.
In this book, 14 authors share one word that has served as a motivating force in their path to personal or professional success. Along with the word, they share a motivational situation about how this word helped to transform their life. While our stories may be different in their own right, our stories connect all of us thought-leaders and positive role models.
Order your copy today and discover, reflect and connect with words that can transform your life.  We take so much for granted these days.  As a result, some people, maybe even you, never or rarely take the time to reflect on words that impact their lives. Get the book and then start the journey of self-reflection, digging deep into your own conscience and discover words that have somehow played a significant role in your life without you even knowing it.
You'll be amazed at what you learn about yourself and how words impact you in ways that you never knew
Destiny
ABOUT THE AUTHOR:  Patricia A. Campbell is the author of the Devotional Pocket Inspiration, 31 Days of Inspiration, a prolific teacher, conference speaker, intercessor, prayer warrior and minister of the gospel.  She is the founder of Life Ministries, a ministry whose assignment is to empower the body of Christ to live in fullness and excellence. She is a woman of God in touch with the pulse of the Spirit.  In addition, Patricia is an Inspirational Coach, mentor,  and a business consultant. Patricia is a mother and enjoys spending time with her daughter April, her granddaughter Shriya, son-in-law Herbert, and her extended family.  She also enjoys writing, reading, bowling, and traveling.
You can e-mail Patricia at [email protected],
Follow her on Twitter at @ministerpatric2