Donna T. Brown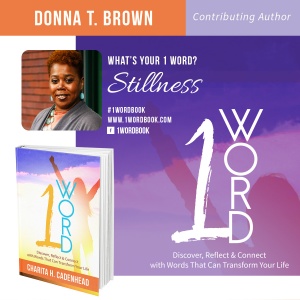 CLICK HERE TO ORDER YOUR COPY OF 1 Word:  Discover, Reflect & Connect With Words That Will Transform Your Life featuring c0-author Donna T. Brown.  All orders from this page will be personally autographed by me, Donna T. Brown.
In this book, 14 authors share one word that has served as a motivating force in their path to personal or professional success. Along with the word, they share a motivational situation about how this word helped to transform their life. While our stories may be different in their own right, our stories connect all of us thought-leaders and positive role models.
Order your copy today and discover, reflect and connect with words that can transform your life.  We take so much for granted these days.  As a result, some people, maybe even you, never or rarely take the time to reflect on words that impact their lives. Get the book and then start the journey of self-reflection, digging deep into your own conscience and discover words that have somehow played a significant role in your life without you even knowing it.
You'll be amazed at what you learn about yourself and how words impact you in ways that you never knew
Stillness
ABOUT THE AUTHOR:  Donna T. Brown is a licensed and ordained Minister.  She's a realist who strongly believes her adversities help her to help others.  She is the Founder of Sisters SOS (Saving our Sanity), a support group that encourages women to confront their personal demons.  Donna is also a teacher and speaker.  The 1 Word Book project is her first writing endeavor.  However, she enjoys poetry writing and has written 2 songs for a local recording artist.  Donna is also a comedian.  In October 2015, she placed 2nd in America's Funniest Home Videos.  Her videos/comedy sketches can be seen on You Tube and her personal Facebook page. She also does stand-up featuring lighthearted church humor.Donna is the wife of Jimmy L. Brown, Sr, and the mother of Teryl,
Donna is the wife of Jimmy L. Brown, Sr and the two of them have been counseling couples (married and unmarried) for over 20 years, and she is the mother of Teryl, Jimmy and Autumn. She makes her home in Trussville, AL.
Email Donna at [email protected]
Facebook:  Donna N Jimmy &  It's Okay To Laugh In Church
Twitter:  ItsOk2Laff