Order Your Autographed 1 Word Book Today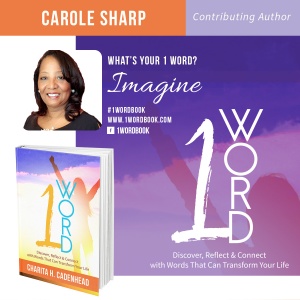 Click here order your copy of 1 Word:  Discover, Reflect & Connect With Words That Will Transform Your Life featuring yours truly, Carole Hines-Sharp.  All orders from this page will be personally autographed by me.
In this book, 14 authors share one word that has served as a motivating force in their path to personal or professional success. Along with the word, they share a motivational situation about how this word helped to transform their lives. While our stories may be different in their own right, our stories connect all of us thought-leaders and positive role models.
Order your copy today and discover, reflect and connect with words that can transform your life.  We take so much for granted these days.  As a result, some people, maybe even you, never or rarely take the time to reflect on words that impact their lives. Get the book and then start the journey of self-reflection, digging deep into your own conscience and discover words that have somehow played a significant role in your life without you even knowing it.
You'll be amazed at what you learn about yourself and how words impact you in ways that you never knew.
Imagine
ABOUT THE AUTHOR:  Carole Hines-Sharp is a wife, mother of 4 adult children and grandmother to 8 beautiful grandchildren and survivor of Triple Negative breast cancer.  She was born and raised in Birmingham, AL and now happily resides in Rialto, CA.
Carole has had two highly unexpected experiences in her life that will forever change her.  The first is having survived breast cancer.  Because of that life-changing experience, she now holds the designation of Cancer Survivor that so many hold with honor and dignity.  As a survivor, she now helps others navigate through the uncertainty of this deadly disease and help the cope through it all.
The second unexpected entry to her bio is now that of author which has proven to be quite a rewarding experience.  Having taken part in this 1 Word book project, by her own admittance, she is now encouraged and motivated to write a story of her own.
You can reach out to Carole at [email protected] and she will gladly talk to and help anyone through the trauma that comes along immediately following the words "you have cancer."