Your Home Restyling Solution with D. Green Joseph
Repurpose Your Home With D. Green-Joseph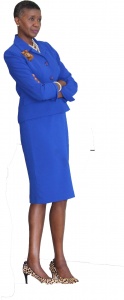 D. Green Joseph, co-author of the 1 Word Book, is an innately gifted space stylist (at least that's what I call her).  So what's a space stylist?  In short, a space stylist is someone that uses what you already have in your home or office and repurposes or restyles it for an entirely different atmosphere in your desired space.  If what you currently have in your home doesn't quite measure up to what you'd like your home to look and feel like, Denise can help you find solutions for that too.  As Managing Partner of Let's Go Solutions (LGS), Denise says LGS is your single source for innovative personal and professional space organization, redesign, upgrade, restyle and repurpose.
When you meet Denise, you can tell that she's a class act personally and professionally so it won't come as a total surprise when she works her magic, what you'll get is classic Denise fine tuned to meet your feng shui.
In her leisure Joseph enjoys traveling, experiencing local entertainment venues (restaurants, jazz concerts, plays, art exhibits) and hosting intimate informal gatherings at her home.
Reach out to D. Green Joseph on LinkedIn.  Ask her about a consultation.  It's the first step to restyling or repurposing your space to match the current state of your existence.